Happy Saturday everyone! What a great Read-A-Thon Week it has been. It's not quite finished yet so there is still time to participate in the fun activities. Check it out if you haven't already! (Come on, there are prizes and everything!).
***The Neverending Shelf Read-A-Thon***
*Bookworming in the 21st Century: -
Activity #1: Clutter and Hording Rehab
*Red House Books - Activity #2:
Review-A-Thon
*The Neverending Shelf - Activity #3:
Share the Blog Love
*Teens Read and Write - Activity #4:
Clear Out the Pack Rat Mentality and the TBR
*A Passion for Books - Activity #5:
Declutter the Blog
*La Femme Readers - Activity #6:
2010 Books that have Blown Me Away
Some more great fun is happening over at Princess Bookie's today as
Contest Craze 2010 is in full swing. Great contests all day long.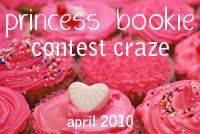 I'm getting some reading done, entering some contests and working on my In My Mailbox post that I hope to have up later today (or tonight)
Hope everyone is having a fabulous Saturday!